Elke week geeft Zeilen een update over hoe het eraan toegaat in de Golden Globe Race. Wat zijn de belangrijkste ontwikkelingen van de afgelopen week, wat zijn de verwachtingen voor de komende tijd en wie vaart momenteel waar. Lees het hier!
Wat gebeurde er deze week?
Op de dag af zijn de vijf overgebleven zeilers 200 dagen onderweg in de Golden Globe Race. Momenteel is het verschil in afstand naar de finish tussen Slats en koploper Van Den Heede 15 mijl. De afgelopen tijd heeft de Nederlander een grote afstand weggesnoept uit de voorsprong van de Franse zeilveteraan.
HAM Radio-uitzendingen
Onlangs kwam Slats met een verontrustend bericht: 'Thinking about retiring from if I cannot weather safety first'/'Ik denk aan terugtreden uit de race'. Er was onduidelijkheid ontstaan over het feit of hij nog wel via het  HAM amateur-radionetwerk mocht communiceren om weerberichten te ontvangen.
De Golden Globe Race-schippers mogen hun kortegolfradio gebruiken om weersvoorspellingen door te krijgen en contact te houden met hun teams. Dat is toegestaan ​​volgens de raceregels. Veel deelnemers gebruiken naast de voor hun toegestane maritieme frequenties, ook het HAM amateurradionetwerk en daarover ontstond deze week discussie. Na een aanvankelijke mededeling van de SSR organisatie dat Mark Slats zijn HAM radio callsign niet meer mag gebruiken omdat deze niet officieel geregistreerd zou zijn, bleek al snel dat het HAM callsign van zijn directe concurrent dat ook niet is. Over de uitkomst van deze discussie en de mogelijke gevolgen voor de race is nog niets bekend, behalve dat de organisatie heeft aangegeven dat de organisatie geen controle heeft over de radio-gerelateerde activiteiten van de deelnemers in de race. En dat alle deelnemers verplicht zijn om een HF SSB-radio en call sign en een geldige Marine Radio Operators-licentie te hebben, hetgeen ook het geval is.
Onverwacht bezoek van een haai
Maandag meldde Slats in een satellietoproep aan de race-organisatie dat hij al een tijd lang zonder drinkwater zit. Het heeft niet veel geregend en wanneer dat eindelijk wél het geval was, werd het regenwater te veel vermengd met het zoute water dat over het dek kwam. Nu gebruikt Slats de handwatermaker om het zeewater te ontzilten. En dat is hard werken. Een uur pompen produceert slechts 750 ml water. De gemiddelde dagelijkse inname is 2,5 liter en dat betekent dus 3 uur pompen. Inmiddels heeft het weer geregend en heeft Slats water kunnen opvangen.
Ook heeft Slats wederom te kampen met aangroei op de romp van Ophen Maverick. De aangroei die hij een aantal weken terug verwijderde is nu terug van weggeweest. De aangroei zit overal op de romp. Bij zijn eerste poging om het onderwaterschip opnieuw schoon te maken werd hij gehinderd door de plotselinge verschijning van een 3,5 meter lange haai. In de volgende rustige periode zal Slats het nog een keer proberen, want de aangroei hindert zijn voortgang. "Tot nu toe heeft dit me ongeveer 50 mijl gekost," meldt hij.
Bekijk hier de impressie van de eerste helft van Slats' Golden Globe Race-ervaring:
De Rustler 36 One and All van Uku Randmaa, die nog steeds derde vaart in de vloot, heeft ook te maken met aangroei. Sinds kort vaart de schipper op de zuidelijke Atlantische Oceaan, ruim 3000 mijl achter het leidende duo. Randmaa ging overboord en schreef: "Ik zwem met dolfijnen." Hopelijk houdt hij hetzelfde (onverwachte) bezoek als Slats kreeg ook goed in de gaten…
Kopar & Lehtinen
Istvan Kopar maakt grote vorderingen noordwaarts met zijn Tradewind 35 Cutter Puffin. Het lijkt erop dat hij zijn stuurproblemen heeft verholpen. De reparatie zorgde ervoor dat hij een halve dag moest stoppen met varen.
De 60-jarige Tapio Lehtinen uit Finland aan boord van zijn Gaia 36 Asteria is de afgelopen dagen druk geweest met het ontwijken van stormen. Momenteel vaart hij ruim 1600 mijl van Kaap Hoorn. Ook de romp van zijn boot is flink bezaaid met aangroei. Iets dat nadelig is voor zijn bootsnelheid.
Vecht tot het einde
Vanwege een gezondheidscontrole moest Igor Zaretskiy eerder in de race terugkeren naar Rusland. Zou dit voor hem het einde van zijn avontuur betekenen? Goed nieuws, want dat is niet zo. Waarschijnlijk hervat de Russische schipper in oktober, vanwege de weersomstandigheden, de GGR. Zaretskiy zei: "Er is een natuurlijke en altijd onderbouwde regel: vecht tot het einde. Totdat je de boei in Les Sables d'Olonne ziet, kan de race niet worden gestopt."
Verwachtingen voor de komende tijd
Van Den Heede en Slats worden beiden op 30 januari in Les Sables d'Olonne verwacht. De Fransman wordt vooralsnog drie uur voor Slats bij de finish verwacht. Binnenkort krijgen de twee te maken met onstabiel weer. Deze onzekere factor kan zowel voor kansen als voor uitdagingen zorgen.
Zodra Van Den Heede het hogedruksysteem van de Azoren heeft gepasseerd, zou hij als eerste kunnen profiteren van de wind die hem een ​​gemakkelijkere doorgang naar het noorden richting de Golf van Biskaje zal geven. Mét Slats in zijn kielzog…
Wie vaart momenteel waar (op 17 januari)
Jean-Luc Van Den Heede, DTF: 1527 mijl
Mark Slats, DTF: 1542 mijl (verschil in afstand tot finish met Van Den Heede is 15 mijl)
Uku Randmaa, DTL: 3227 mijl
Istvan Kopar, DTL: 3859 mijl
Tapio Lehtinen, DTL: 7105 mijl
Igor Zaretskiy: Chichester-klasse en hervat de race waarschijnlijk weer in oktober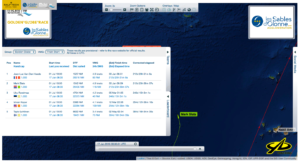 Klik hier voor de tracker
Omslagfoto: Golden Globe Race